Beauty & Self
Books & Music
Career
Computers
Education
Family
Food & Wine
Health & Fitness
Hobbies & Crafts
Home & Garden
Money
News & Politics
Relationships
Religion & Spirituality
Sports
Travel & Culture
TV & Movies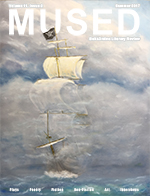 Our time on this Earth is fleeting and precious. We often know that in a vague, intellectual sense, and yet we can find ourselves whittling away those finite minutes without mindful thought. We should celebrate the beauty in a child's smile. The radiant sound of saying "I love you" to that special person. The warm touch of a hand. The delicate scent of a wildflower.

Enjoy the Mused Summer Solstice 2017 Issue



2017 Emmy Winners announced
Entertainment News - Trina Boice, Editor

The 2017 Emmy rewards are now announced. TV lovers enjoyed the Sunday night awards ceremony. Below is a list of the winners.




Blood Defense Book Review
Suspense / Thriller Books - Karen Hancock, Editor

Samantha Brinkman is asked to represent a detective who has been arrested for a double murder. Samantha is unsure whether he is guilty, and her representation of him puts her and her defense team in grave danger. This is a great thriller.




Misspelling as Warning Signal
School Reform - Maeve Maddox, Editor

Something is not right when the same adults who are able to perform basic math functions and recall song lyrics and sports statistics are unable to spell the words they use in day-to-day writing.




Curel Hydratherapy Wet Skin Moisturizer
Body Care - BB Lee, Editor

The Curel Hydratherapy Wet Skin Moisturizer is the ideal skin care product for the woman with a very busy schedule.




Noorjahan's Rubies - Muskaan
Tatting - Georgia Seitz, Editor

Muskaan shares her pattern "Noorjahan's Rubies Ring" with us. Muskaan designed these earrings and ring pattern especially for the 2017 Palmetto Tat Days




Site of the month. Italki.com
Spanish Language - Angeles Fernández, Editor

Italki, a good and practical way to learn/practice Spanish... or any other language you've got on your list!


| Google+ |
E D I T O R R E C O M M E N D E D
The Weiser Field Guide to Cryptozoology


The Weiser Field Guide to Cryptozoology by Deena West Budd includes information, interviews, and stories about forty different cryptids seen in various places all over the world by credible eyewitnesses like policemen, rangers, and doctors. Readers will learn where and how to find flying humanoids, hairy humanoids, giants of all kinds including rabbits, bats and spiders, goblins, and vampires.
Eagle One is 2nd to None!


Everyone should have the basics to keep their rides shiny and road ready. The only way to do it is with Eagle One all day long!
Phoenix Rising


"No Eyes", a very wise, very insightful Shaman Indian takes Mary Summer Rain on a rare journey into the future where warnings of upheavals and challenges are gently yet thoroughly revealed out of love and preservation for her beloved Mother Earth.