Beauty & Self
Books & Music
Career
Computers
Education
Family
Food & Wine
Health & Fitness
Hobbies & Crafts
Home & Garden
Money
News & Politics
Relationships
Religion & Spirituality
Sports
Travel & Culture
TV & Movies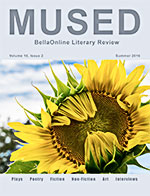 For many people, summertime is the perfect time to explore creativity. Plein air artists bring easels to gardens and beaches, showcasing nature's colors in oils, acrylics, and watercolors. Photographers ferret out a million sights to immortalize. Poets and writers stretch languidly beneath a shady oak tree, listening to the gentle buzz of insects, and constructing entire worlds out of the ether.

Enjoy the creativity of our community of artists - and then explore your own! We'd love to see your works for upcoming issues!

Summer Solstice 2016 issue of Mused

The Ultimate Cheat Sheet On Recycling
Body Care - BB Lee, Editor

Keep the planet green by recycling.




Milk and IVF Success
Infertility - Hannah Calef, Editor

Regular milk consumption has been linked with increased IVF success




Chakra Balancing Using Crystals
New Age - Deanna Leigh Joseph, Editor

If you are interested in clearing your chakras, and you have a strong affinity for working with crystals, you may want to try this simple technique for clearing your chakras using some of your favorite crystals.




Visit Washington Park while in Portland, Oregon
Family Travel - Tiffiny Spire, Editor

If you're visiting Portland, Oregon (or anywhere near), be sure to include a trip to Washington Park in the itinerary. It's a great place for the whole family to explore.




Slow Cooker Chicken & Veggie One-Pot Recipe
Quick Cooking - Karen Hancock, Editor

Too busy to cook? This easy dish goes together quickly - in 15-20 minutes, and cooks while you deal with more important matters. Pair it with crusty bread and your entire dinner is done.




Sewing for the Best Fit
Sewing - Cheryl Ellex, Editor

Whether you are sewing a garment to fit a toddler, teen, mature figure, hard-to-fit body contours or challenging physical circumstances, strive for the best fit that pattern and fabric will allow.


| Google+ |
E D I T O R R E C O M M E N D E D
God Underneath


Spiritual Memoirs of a Catholic Priest, By Edward L. Beck. Each chapter contains a scripture passage and personal tales revealing Godís presence in everyday life. Fr. Beck is a member of the Passionist community and travels throughout the country preaching and organizing retreats. I highly recommend this wonderful book and have personally attended several of Fr. Beckís inspiring parish missions.
Spectorsoft EBlaster 6.0 Security and Monitor Soft


Installed in less than five minutes the eblaster software monitors the online activity of children. Providing email alerts to the designated email whenever a child receives or sends an email. Also, allows monitoring of chat rooms, key strokes, and instant messages. See who is talking to your child online.
Experiencing God


The Creator of heaven and earth. Our God is given names in Scripture that describe characteristics of His personality. Experience God through the names given Him in Scripture.